Spouting fire from the belly of the planet, volcanoes have both fascinated and terrorized humans since ancient times. Only recently has man pushed the boundaries of the flowing lava and molten ash to conquer one of the last killer frontiers on Earth and beyond...

Dustier and, at times, more scenic than snow or sand boarding, volcano boarding / surfing is the sport of choice for adventurers eager to hang ten on a steep mountainside of ash and cinder.

Whether your choice is to toboggan down the dry lava beds of Mt. Rainer, board the slops of beautiful Hawaii or the rugged terrain of Alaska, or set your site on the outer extreme limits Xtreme Volcano Surfing has the tour package for you.

For the novice we recommend:
Sledding or boarding on the dry lava beds of the Pacific Northwest.
For the advanced:
We offer 5 day tour packages in Alaska and Hawaii.
To surf the waters during an actual volcano eruption, contact us by E-mail at hotfiresurfing@gmail.com for current updates and locations. Possible sites are Hawaii, Fiji, and Taiwan.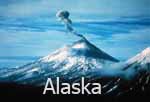 For the Xtreme enthusiast:
Explore the outer limits of our solar system with our non-round trip excursion to the planet Venus with it's 1600 plus active volcanoes. Certain restrictions and waivers of liability apply.